Our organization provides competent and compassionate care for members of the Gay, Lesbian, Bisexual and Transgender community and others that are questioning their sexual orientation or gender identity, seeking support, or wanting a safe place to come and discuss these issues.
Struggling with your sexual orientation and gender identity sometimes elicits feelings of depression, anxiety, mood swings, relationship problems, feeling discriminated, fearful, or struggling with suicidal ideation.
This doesn't mean that there is anything wrong with you, but that you are simply trying to find your place in the world and may have had some negative experiences regarding your sexual orientation or gender identity.
While we understand that seeking help and reaching out can be scary, it is an important step in helping you feel better, achieve some congruence and feel more at peace in your body, your skin and your sexuality.
Contact us to set an appointment or ask a question, we will be happy to answer any questions.
Coming out can be a celebrated event or a nightmare. No matter who you are coming out to (friends, family, etc) it is important that you are prepared for people's responses.
Most individuals find that they feel more congruent and connected to themselves when they are able to live their lives openly.
However the decision is often difficult according to the circumstances that surround you, or the specific values of the people you may be coming out to, and it's important that you have support from other sources when you are ready to take this step.
Dr. Richard Niolon, describes 5 distinct stages in the coming out process. You may follow this link for more in-depth information, or read this short summary:(http://www.psychpage.com/learning/library/gay/comeout.html)
Self-Reconigtion as Gay

– the first step toward acknowledgment and acceptance of one's sexuality. This begins the identification process for the individual but it is often difficult.

Disclosure to Others

– some elect to disclose their orientation to a select and personal group of close individuals. Negative acceptance can inadvertantly shift the GLBT individual back to stage 1, while a positive affirmation of the disclosure can increase the individual's self-esteem.

Socialization with Other Gays

– finding others "like themselves" marks a transition toward the outside world, and finding other individuals who share similar interests that foster self-acceptance and validation for the individual. It is important to find a community or a group where you feel accepted, validated and embraced.

Positive Self-Identification

– a recognition the individual is feeling good about him/herself, seeking to establish relationships with other gay, lesbian, bisexual or transgender individuals.

Integration & Acceptance

– being open about one's sexual orientation and exhibiting pride in this identity. This final mark in the process can be different depending upon age, maturity and environment of the individual. Some may elect to be private and discrete about their sexual orientation, while others may seek a more political stance and be very open.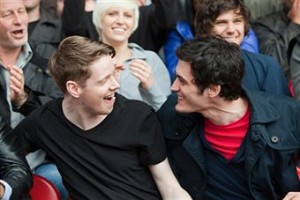 Resources
GLBT National Help Center
The GLBT National Help Center provides hotlines meeting the needs of the gay, lesbian, bisexual and transgendered community.
The centers operate 2 national hotlines (New York and San Francisco) for individuals to call for issues they are facing in their lives – from relationships, to safe sex practices, to coming out.
The centers also provide support and information via email for those that feel more comfortable discussing these issues over the Internet. The National Hotline operates from 3 p.m. to 11 p.m. (Monday – Friday), and 11 a.m. to 4 p.m. (Saturday) central time.
Toll-free 1-888-THE-GLNH (1-888-843-4564)
Email: glnh@GLBTNationalHelpCenter.org
The National Youth Hotline operates Monday – Friday, 7 p.m. to 11 p.m. The Youth Hotline provides both phone and email support and peer-counseling. The center provides services to individuals up to age 25.
Toll-free 1-800-246-PRIDE (1-800-246-7743)
Email: youth@GLBTNationalHelpCenter.org
---
Human Rights Campaign
This organization works for lesbian, gay, bisexual, and transgendered equal rights. It represents one of America's largest civil rights organizations catering to the GLBT population. It's goal is to elminate discrimination based upon sexual orientation and promote a equal nation for all individuals.
---
PFLAG
Parents, Family & Friends of Lesbians and Gays – identifies as its mission to helping celebrate diversity and advocate for equality for all human beings:
Parents, Families and Friends of Lesbians and Gays (PFLAG) is a national non-profit organization with over 200,000 members and supporters and over 500 affiliates in the United States. This vast grassroots network is cultivated, resourced and serviced by the PFLAG National Office, located in Washington, D.C., the national Board of Directors and 13 Regional Directors.
---
Address is 1301 E Colfax
Hours of operation are 10 a.m. to 8 p.m. Monday-Friday, noon to 8 p.m. Saturday. We hope to see you soon!
Mission
The mission of The Center is to engage, empower, enrich, and advance the gay, lesbian, bisexual, and transgender community of Colorado.
Vision
The Center will be the premier gay, lesbian, bisexual, and transgender (GLBT) organization in the Rocky Mountain region. We will advance a vibrant quality of life for the GLBT community, inspired by the principles of leadership, excellence, integrity, equality, inclusivity, healthy living, and community connection.